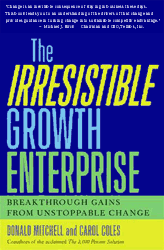 If powerful trends and uncontrollable circumstances have ever delayed or derailed your organization's growth, this book can help you avoid missed opportunities in the future.
Here you can learn how to convert such influences into your company's best allies, and not only achieve, but exceed, your goals.
The Irresistible Growth Enterprise is now available in an electronic version that can be used on a PC or laptop. The book will be available in September 2000.
---

"Change is an inevitable consequence of staying in business these days. This book leads you to an understanding of the drivers of that change and provides guidance in turning change into sustainable competitive advantage."

-- Michael J. Birck
Chairman and CEO, Tellabs

---
If you are thinking about starting up a new business, The Irresistible Growth Enterprise can help you establish a growth trajectory that will be both higher and more certain, whether this will be an old economy or new economy enterprise.
The Irresistible Growth Enterprise presents a revolutionary, yet common sense, business concept. Instead of trying to overcome or neutralize forces over which you have no control, establish a company vision, strategy, and tactics to implement that strategy, and management processes that will cause your business to flourish regardless of the direction these unpredictable, unstoppable forces take in the future.
Irresistible forces today most often come in the form of new technologies, changed and increased customer expectations, volatile financial markets, fluctuating currencies, unexpected shifts in the economy, reversals of government policy and regulation, and unprecedentedly effective global competitors putting downward pressure on prices.
Shifts in the potential danger posed and opportunity provided by these and other uncontrollable forces are increasing in frequency and amplitude. Companies that have employed such forces well in the past -- such as McDonald's, Microsoft, Cisco Systems, Starbucks, and AOL -- have grown from startups to major corporations in ever faster periods of time. With the certainty that uncontrollable change cycles will accelerate in tomorrow's increasingly interconnected global economy, the need to understand and apply the lessons of The Irresistible Growth Enterprise becomes ever more urgent and valuable.
What forces will be most important to your organization tomorrow? No one can know yet, but you can be in a far better position to seize advantages from those after reading and applying the principles in The Irresistible Growth Enterprise. By learning to harness these forces, regardless of their direction and timing, your growth will become as irresistible as those forces themselves. You will also vastly outperform those who wait to deal with the forces only after they have shifted by trying to adapt in a belated fashion. You will have the ultimate competitive advantage.
To do this, your company will need to eliminate the bad habits and obsolete procedures that make organizations vulnerable to the unstoppable changes around them. You can learn from this book how to identify which habits and procedures can create the most harm for your business. Then, the authors lay out a set of new questions and processes for you to use that employ many old and new economy examples and workbook-style exercises. You will also learn how to expand the new ways of thinking needed for your irresistible prosperity to everyone in your organization.
Tomorrow's industry leaders will be those who excel at using all irresistible forces to their best advantage. Will you be one of them? Whatever you do, don't give this book to your competitors. The Irresistible Growth Enterprise should be your secret to breakthrough gains from unstoppable change.
---
Learn about our first book The 2000 Percent Solution, discover more ways to achieve rapid progress at fastforward400.com and read more about Mitchell and Company at mitchellandco.com.
---
Copyright 2000 Mitchell and Company
Mitchell and Company


Copyright 2000 Tobi Kahn
Original illustrations, images by artist Tobi Kahn: 14 images from the series ADHAH Copyright 2000 Tobi Kahn. All rights reserved by the artist.
Developed and maintained by Interactive Media Advertising Group, Inc.